Menus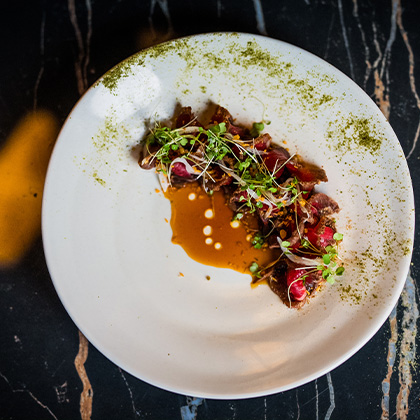 As Calgary's first "yakitoria", Shokunin focuses on expert grilling of over 20 cuts of chicken and meat over a Japanese-Style Robata Grill. With this style of grilling, we can achieve the depth of flavour that only salt, fat and fire can bring to grilled meats.
@shokuninyyc particular attention is given to chicken as this is the essence of YAKITORI – yaki (fire) + tori (bird). Each morning, 30 chickens are expertly butchered into 20 cuts including the chicken ass, heart, neck and thighs, before being skewered for grilling. Some skewers are extremely rare, needing over eight chickens per skewer! This means guests need to come early and often!
In addition to cuts of chicken, guests can enjoy a variety of grilled vegetables, meats and seafood. Highlights include Miso Butter Grilled Cabbage, Hamachi Kamas, and rare, select cuts of Japanese Wagyu Beef, aged for 45 days in-house in beeswax.
View Our Food Menu
Sake is one of the main focuses of Shokunin and it boasts one of the city's first and most exclusive "junmai" or "pure" sake lists! The restaurant uses these styles of sake to ensure a smooth and delicious experience for first timers and "tojis".
The collection of sake is influenced by Chef MacLean's personal relationship with many sake breweries that he visits when in Japan, often resulting in many of the sakes being exclusive to Shokunin Collective restaurants. Some pours are not available anywhere else in North America.
Never outshone is our house-curated cocktail menu at Shokunin. This is solely focused on creating incredible tasting libations that pair with the food. The aim of the cocktail list is to be familiar, but different – riffing on classics by using Japanese spirits, flavour profiles and aesthetics to enhance the dining experience.
Beer is at the core of any Japanese Izakaya experience. Shokunin has an in-house created beer OKAMI KASU – the first beer in the world to be brewed with Sake Kasu. This gives an exceptional creaminess to the ale, as well as a faintly sweet finish to accompany grilled dishes @shokuninyyc
View Our Drink Menu